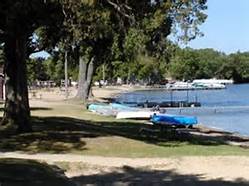 Sandy Beach Park is located on Sandy Beach Road in the City of Lake Mills. This popular park offers two swimming, picnicking, volleyball, restrooms, boat rentals, boat launch facilities, and a seasonal restaurant.
Sandy Beach is divided into two distinct sections; a 14 acre recreational lakefront and a 13.2 acre seasonal mobile home park. The lakefront area includes two large swimming beaches, five sand volleyball courts, single lane boat ramp, restroom facilities, playground equipment, picnic areas and a seasonally operated restaurant/bar. A covered picnic shelter is also available for rent. There is an entrance fee to Sandy Beach Park.
DAILY ADMISSION FEE
CITY RESIDENTS
Children, 5 & Under – Free
Youth, 6-11 – $2
Adult, 12 & Up – $3
NON-CITY RESIDENTS
Children, 5 & Under – Free
Youth, 6-11 – $3
Adult, 12 & Up – $4
SEASON PASSES
CITY RESIDENTS
City Residents can obtain a free pass at 200D Water St. Please bring proof of residency.
NON-CITY RESIDENTS
Children, 5 & Under – Free
Youth, 6-11 – $18
Adult, 12 & Up – $25
Family, Maxium – $60
REPLACEMENT PASSES
Replacement Passes – $3
SANDY BEACH RULES
1. Park closed: 10:30pm-4am Sunday-Thursday. 12am-4am Friday & Saturday.
2. Swimming hours: 8am-9pm at all swimming areas designated by lifelines.
3. No lifeguards on duty. Swim at your own risk.
4. Children under 10 years must be supervised by an adult at all times.
5. Pets are not allowed in the park.
6. Only non-glass containers are permitted in the park.
7. Patrons may not hang or sit on lifelines.
8. Patrons may not throw sand, rocks, or other potentially dangerous items.
9. Patrons may not engage in rough play, including, but not limited to, dunking, chicken fights, etc.
10. Fishing is not permitted in any swimming areas or off piers.
11. Patrons must stay out from under piers
12. No eating, drinking or smoking is allowed in any swimming area.
13. No running or diving from piers at anytime.
14. No overnight parking.
15. Private piers are for boat lift renters only.
16. No mooring or parking of boats within 50′ of piers or swimming areas.
17. No vehicular traffic is allowed outside the designated parking or boat launch area.
18. Personal music devices must be kept at a normal operating level that is not offensive or bothersome to any surrounding park patrons.
19. Fires prohibited except for cooking within charcoal grills.
20. No fireworks are allowed.
Violators may be asked to leave the premises or issued a citation.